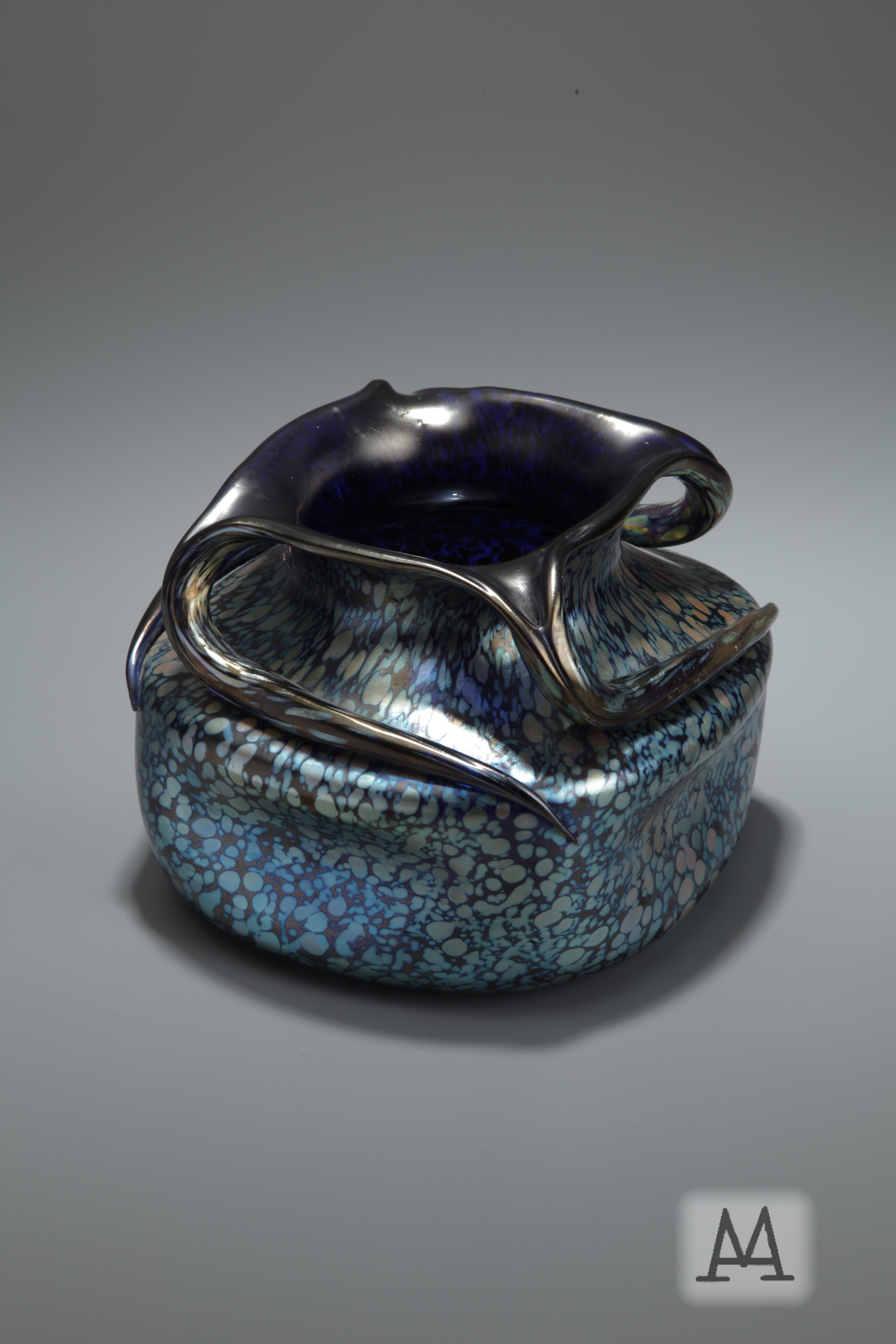 A Slightly Inconspicuous Vase
In the third sector of the PASK exhibition, one can see a slightly inconspicuous yet interesting vase in terms of its décor and shape. It is located in the Papillon décor group, but can also be easily found in the eighth or ninth sectors among the designs of artist Marie Kirschner/ova (1852 – 1931), as the initials "MK" can be found at the bottom of it. The original design of the vase comes from 1901, but the artist had ordered this shape of vase from the glassworks by at least 1904.
The original paper pattern of the vase can be found among Marie Kirschner's orders (production number: 1090/22); according to links on the pattern, the vase was included in the regular production of the glassworks in 1902 (production number: II-2/441). The vase was produced in two different sizes – the former vase's height (the exhibited vase) was about 115 mm from the year 1901 and a larger sized vase with a height of about 220 mm was produced in 1903 – 1904. According to archive documentation as well as the extant artifacts, the vase is well known in a variety of different décors – Cobalt Papillon (the exhibited vase), Candia Papillon, Candia Silberiris, Creta Norma, Heliotrop, and Matt Iris. One can be almost certain that this is not the final list.
Marie Kirschner/ová
The Czech-German artist was born on January 7th, 1852 in Prague where she started studying painting privately. Later she also attended painting academies and used private teachers in Vienna, Munich and Paris, where she had a very successful exhibition of paintings in 1874. She traveled a lot from 1887 to 1914 and lived mostly in Berlin. From 1880 she also concentrated on interior design, as she designed furniture, textile and so on. In 1890 she became friends with the Spaun family and she designed the first glass artifacts for the glassworks in 1897; she then continued to systematically concentrate on glass. In the following decades, she had glass fabricated according to her own designs, which she subsequently sold at her own expense. Almost 300 different designs were involved. Some of her designs were also being produced as a part of "Johann Loetz's Widow's" regular assortment. Her creations influenced the production program of the glassworks. According to company archives Marie Kirschner's last order was made in 1927.